Entertainment Tonight Reports
The 'Today' show's stars turning into mean girls
'Today' show's stars turning into mean girls'
There's more drama at "Today."
A new report from Page Six points out some of the mean-girl antics the show's stars and staff have seemingly engaged in in recent weeks, and it's not pretty.
The report, published on Jan. 20, blames Megyn Kelly for having started it. Megyn, of course, has endured more than her fair share of drama ever since she joined NBC and assumed hosting duties for the third hour of "Today" last year.
After Hoda Kotb, 53, officially took over for disgraced host Matt Lauer, 60, following his ouster amid a brewing sexual misconduct scandal, Megyn congratulated her "'Mean Girls'-style," the New York Post's gossip column alleges.
Megyn, 47, said to Hoda on live television on Jan. 2, "We talked recently about how 10 years ago, your life was very different. You were going through a dark period... Do you take a moment on a day like this to stop and think, 'Holy moly'?"
But she didn't elaborate on what she meant by "dark period." It actually refers to Hoda's breast cancer diagnosis and surgery, not something nefarious or scandalous, as many feel her language implied.
Staffers were shocked at Megyn's approach, Page Six reports. "Everybody in the control room gasped when Megyn brought up Hoda's 'dark period' because many viewers likely won't know exactly what she was referring to," an NBC News insider said. "That comment was awkward, mean-spirited. It really stung."
The gossip column further reported that the production team for Hoda and co-anchor Savannah Guthrie, 46, later threw Megyn under the bus when they highlighted her cringe-worthy interview with Hollywood legend Jane Fonda from September.
Viewers might remember Megyn and Jane made headlines after Megyn asked the actress about her plastic surgery during a joint interview with Robert Redford they were doing to promote their movie "Our Souls at Night." A surprised and offended Jane shut Megyn down without hesitation, calling it "the wrong time and place to ask that question."
When Jane returned to "Today" in January -- this time with "Grace and Frankie" co-star Lily Tomlin during Hoda and Savannah's 7 a.m. to 9 a.m. portion of the show -- Jane delivered a stinging quip about Megyn, asking Lily, "Who are you, Megyn Kelly?" after Lily joked she'd known Jane since "before your first face lift." Hoda and Savannah burst into laughter.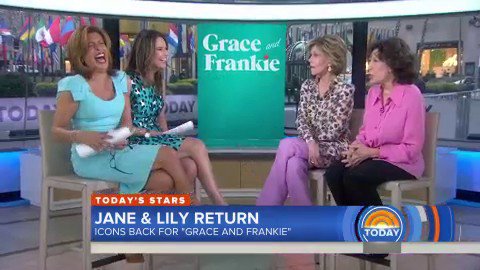 Hoda and Savannah's "Today" producing team -- Megyn has a separate production staff for the 9 o'clock hour -- then added insult to injury when they tweeted a video clip featuring the dig at Megyn.
There will, however, soon be some physical distance between all the women, as Megyn will remain in New York City to host her third hour of "Today" while Hoda and Savannah will co-anchor "Today" live from Pyeongchang, South Korea, from 7 a.m. to 9 a.m. during the Winter Olympics beginning on Feb. 12.
Deadline reports that Al Roker, Natalie Morales, Willie Geist, Craig Melvin and Dylan Dreyer will join them in South Korea while Kathie Lee Gifford and Jenna Bush Hager will remain in NYC with Megan, where the duo will host the fourth hour of the NBC morning show.
Stars who had a rocky 2017:
Megyn Kelly blames Savannah Guthrie and Hoda For Celebrities who can't stand Oprah interview And interview tape Was On the Air Kelly Ripe ABC WOW This Why Today' Show's Stars Turns Into Mean Girls
Though accusations of sexual misconduct dominated the headlines throughout 2017 and derailed the carers of some of Hollywood's biggest stars (Kevin Spacey, Louis C.K., Russell Simmons, super-producer Harvey Weinstein, journalist Matt Lauer and more), other bold-faced names hitrough patches this year too! Wonderwall.com is taking a look back at celebs who had a rocky 2017, starting with http://www.wonderwall.com/celebrity/profiles/overview/JohnnyDepp .This year, the Oscar nominee faced money issues normal people could never even imagine: After he sued his former business managers in January -- and they filed a countersuit -- it was revealed that he is $40 million in debt. His lavish spending was broken down and included things like shelling out http://www.wonderwall.com/news/johnny-depp-ex-managers-claim-drinks-30k-month-wine-1956482.article" $30,000 a month on wine and $200,000 a month on private jets. In addition to his ongoing money woes, Johnny faced controversy when he said, "When was the last time an actor assassinated a president?" to a crowd in June. He was later forced to apologize, saying, "It did not come out as intended, and I intended no malice. I was only trying to amuse, not to harm anyone." Keeping all those factors in mind, is it any wonder the A-list actor might be looking forward to a fresh start in 2018? Now keep reading for more stars who struggled this year...